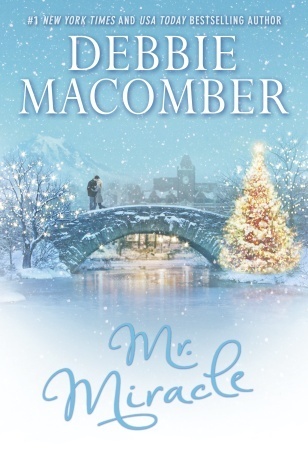 Book Title: Mr. Miracle: A Christmas Novel
Book Author: Debbie Macomber
Book Rating: ☆☆☆ (3 out of 5 stars)
Synopsis: "Harry Mills is a guardian angel on a mission: help twenty-four-year-old Addie Folsom get her life back on track—and, if the right moment strikes, help her find love. Posing as a teacher at a local college in Tacoma, Washington, Harry is up to the task, but not even he can predict the surprises that lay in store."
This was my first time reading anything by Debbie Macomber, and this was quite an adorable novel.  I need to mention that I read this book during the tail end of a North Carolina summer, in 90+ degree temperatures, and still could feel myself getting into the "Christmas spirit". I mean, just look at that gorgeous cover, the mere sight of it brings up wonderful memories of snowy days, decorating the Christmas tree, and sipping on hot cocoa.  This book is already being developed for a Hallmark movie later this year, which probably tells you more about the style and feel of this novel than anything else.
Addie Folsom has just return to her hometown for the holidays, and this time plans to stay home for good.  She has had a few bumps in the road while trying to set out on her own, and has returned home to finish her degree and be there for her recently widowed mother.  The main character is always sort of the deal breaker for whether or not I love a book, and Addie was flawed yet very relatable.  While happy to be home, she desperately wants to avoid Erich, her neighbor and the boy who teased her relentlessly during their youth.  Circumstances come about that cause Addie and Erich to share a lot of time together, with Erich in a very vulnerable state.  Little does Addie know that her new teacher, Harry Mills, is also a guardian angel.  Harry has been sent to help Addie get back on the right path, and maybe even fall in love.  I loved how everything slowly unfolded between Addie and Erich, and how her mere tolerance for Erich blossomed into love.
I wasn't crazy about the guardian angel story line, but it was all in good fun and added an "It's a Wonderful Life" element to this otherwise typical romance.  Harry's character had to deal not only with being sent to earth for the first time, but "adjusting" to his borrowed human body, complete with all of the normal human emotions.  There were also some other likable secondary characters that added some interesting elements to this book.  Most notable were Tommy, the war veteran in Addie's class, and Michelle, the French teacher who forms a connection with Harry.  Overall, this is a quick and enjoyable read, but is best suited for those who liked a lot of fluff with their romance.

Disclosure: I received this book for free through Goodreads First Reads.