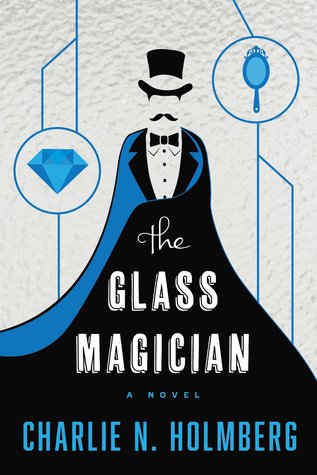 Book Title: The Glass Magician (The Paper Magician Trilogy #2)
Book Author: Charlie N. Holmberg
Book Rating: ☆☆☆☆ (4 out of 5 stars)
Synopsis: "Three months after returning Magician Emery Thane's heart to his body, Ceony Twill is well on her way to becoming a Folder. Unfortunately, not all of Ceony's thoughts have been focused on paper magic. Though she was promised romance by a fortuity box, Ceony still hasn't broken the teacher-student barrier with Emery, despite their growing closeness.
When a magician with a penchant for revenge believes that Ceony possesses a secret, he vows to discover it…even if it tears apart the very fabric of their magical world. After a series of attacks target Ceony and catch those she holds most dear in the crossfire, Ceony knows she must find the true limits of her powers…and keep her knowledge from falling into wayward hands."
While the first volume in this series was good, I think I enjoyed this one just a bit more.  In fact, I pretty much devoured this book…it was so hard to put down!  This magical world that the author has created is so beautiful and I loved getting to explore it and the characters more in depth in this second installment of the trilogy.
After saving her instructor's life in the first book, Ceony really just wants to get back to a "normal life".  After literally traveling through Emery Thane's heart just a few months before, they are even closer than ever, with Ceony's once "school girl crush" developing into a really intense love and respect for Emery.  Having caught a glimpse of their future in the fortuity box, she tries patiently to wait for the day that he will return her feelings.  It is quite clear through Emery's small tokens of affection for Ceony that his feelings are more than platonic, but that he struggles with the fact that Ceony is currently his student.  To put it mildly, they certainly do not have typical teacher/student relationship in this book.  Regardless of your feelings about that romance, I do think it is very sweet how protective Emery is of Ceony.
As it turns out, some of the practitioners of dark magic (the Excisioners) are after Ceony to learn the secrets of the spell that she cast to freeze Lira in the previous book.  Apparently the spell that she performed on a whim is some seriously sophisticated magic, because it seems that everyone is interested in exactly how she was able to defeat Lira.  There is quite a bit of action through the book, with these evil magicians hunting for Ceony, which provides for a lot of excited page turning.
My biggest complaint about the first novel was that I felt the readers didn't really get a chance to learn much about Ceony or her past.  I felt that this was remedied well in this sequel, and I have really come to admire Ceony and her strength.  Weak female characters in young adult fiction are a real problem, but this author has done a stellar job of making our heroine seem strong, and yet still vulnerable in many situations, in a way that was very refreshing.  Ceony's life in literally almost constantly endangered during the course of this book, but she never backs down.
The only real problem I really had with this book was the romance.  I'm very conflicted about my feelings regarding this student/teacher relationship.  Part of me was rooting for them to get together after all they've been through over the past few months, but the other part of me wanted to scold Emery for encouraging this affection when he has an authoritative role over Ceony.  However, I am interested to see how their relationship progresses and will be eagerly anticipating the conclusion of this trilogy.
Disclosure: I received a free copy of this book through Netgalley.