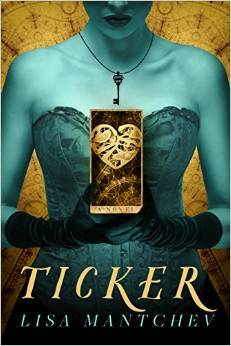 Book Title: Ticker
Book Author: Lisa Mantchev
Book Rating: ☆☆☆☆ (4 out of 5 stars)
Synopsis: "When Penny Farthing nearly dies, brilliant surgeon Calvin Warwick manages to implant a brass "Ticker" in her chest, transforming her into the first of the Augmented. But soon it's discovered that Warwick killed dozens of people as he strove to perfect another improved Ticker for Penny, and he's put on trial for mass murder.
On the last day of Warwick's trial, the Farthings' factory is bombed, Penny's parents disappear, and Penny and her brother, Nic, receive a ransom note demanding all of their Augmentation research if they want to see their parents again. Is someone trying to destroy the Farthings…or is the motive more sinister?
Desperate to reunite their family and rescue their research, Penny and her brother recruit fiery baker Violet Nesselrode, gentleman-about-town Sebastian Stirling, and Marcus Kingsley, a young army general who has his own reasons for wanting to lift the veil between this world and the next. Wagers are placed, friends are lost, romance stages an ambush, and time is running out for the girl with the clockwork heart."
Well, that settles it.  I am now officially a fan of the steampunk genre!  This novel was absolutely amazing.  We are introduced to Penelope "Penny" Farthing, one of three daughters born to the Farthing family, and the only one of the girls who is still living.  All were born with a heart defect, and Penny has Dr. Calvin Warwick to thank for the fact that she is still alive.  You see, he has implanted a mechanical heart into Penny's chest, making her the first "Augmented" person, and the subject of much controversy.  It is later discovered that Dr. Warwick killed numerous people in his quest to perfect the Ticker that he created, and he was subsequently arrested and put on trial for murder.  On the day the verdict for his trial was to be announced, the Farthing family's factory is bombed and their home broken into.  Now Penny and her twin brother Nic's parents are missing, and their captors are demanding that all of their Augmentation research be handed over.
Filled with quick-witted dialog, tons of action and suspense, and truly superb world-building, this novel was phenomenally constructed.  As this mystery unfolds, we are introduced to a host of wonderfully developed characters and more twists and turns than I can count.  As the crew works to locate Penny and Nic's parents, I feared that time would run out for their parents…and for Penny.  Though this was a novel that was intended for a "young adult" audience, I felt that one of the greatest strengths of this novel was the ethical commentary on how far you would go to save the person that you love.  Because of the depth of this novel, I strongly believe that this is one of the best and most mature young adult books that I have read in a very long time.  This book has a lot to offer, and I can easily rank it among some of my favorites of this year.