Happy New Year, my fellow book lovers!  In the spirit of the new year, I wanted to make a list of the top 5 books that I am most looking forward to reading (so far) for 2015.
#1 – I Was Here by Gayle Forman.  Expected publication: January 27, 2015.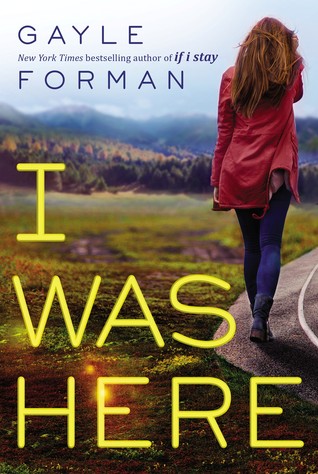 Blurb: "When her best friend Meg drinks a bottle of industrial-strength cleaner alone in a motel room, Cody is understandably shocked and devastated. She and Meg shared everything—so how was there no warning? But when Cody travels to Meg's college town to pack up the belongings left behind, she discovers that there's a lot that Meg never told her. About her old roommates, the sort of people Cody never would have met in her dead-end small town in Washington. About Ben McAllister, the boy with a guitar and a sneer, who broke Meg's heart. And about an encrypted computer file that Cody can't open—until she does, and suddenly everything Cody thought she knew about her best friend's death gets thrown into question."
#2 – The Fury (The Queen of Hearts Saga #3) by Colleen Oakes.  Expected publication: February 14, 2015.
Blurb: "Wounded by a broken heart, Dinah wages an all-out war to defeat her evil father and reign over Wonderland as sole ruler. But will her humanity survive the fight?"
#3 – Whisper Hollow by Chris Cander.  Expected publication: March 17, 2015.
Blurb: "One morning in Verra, a town nestled into the hillsides of West Virginia, the young Myrthen Bergmann is playing tug-of-war with her twin, when her sister is killed. Unable to accept her own guilt, Myrthen excludes herself from all forms of friendship and affection and begins a twisted, haunted life dedicated to God. Meanwhile, her neighbor Alta Krol longs to be an artist even as her days are taken up caring for her widowed father and siblings. Everything changes when Myrthen marries the man Alta loves. Fourteen years later, we meet Lidia, a teenage girl in the same town, and her precocious son, Gabriel. When Gabriel starts telling eerily prescient stories that hint at Verra's long-buried secrets, it's not long before the townspeople begin to suspect that the boy harbors evil spirits—an irresistible state of affairs for Myrthen and her obsession with salvation."
#4 – The American Lady (The Glassblower Trilogy #2) by Petra Durst-Benning.  Expected publication: March 10, 2015.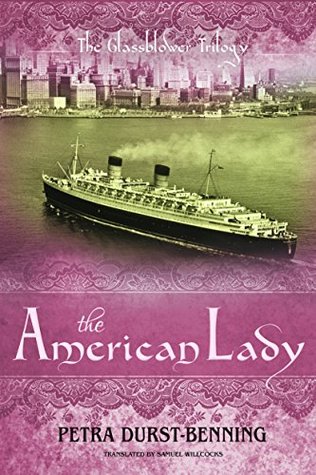 Blurb: "Tempestuous and beautiful Wanda Miles, daughter of Ruth and Stephen Miles (or so she thinks), aspires to more than the life of a debutante, but the trouble is she doesn't know precisely what she wants. Then her aunt Marie, the family's renowned glassblower, arrives from Lauscha, Germany, and Wanda decides that learning about her ancestry may hold the key to her future. When Marie accidentally reveals a long-held secret about Wanda's parents, Wanda goes to Lauscha to unravel the truth.  While Marie finds herself increasingly swept up in New York City's bohemian social scene—catching the eye of a handsome young Italian in the process—Wanda explores a past she never knew in the village of her mother's youth—and begins to build a life that she never expected."
#5 – Mechanica by Betsy Cornwell.  Expected publication: August 4, 2015.
Blurb: "Nicolette's awful stepsisters call her "Mechanica" to demean her, but the nickname fits: she learned to be an inventor at her mother's knee. Her mom is gone now, though, and the Steps have turned her into a servant in her own home. But on her sixteenth birthday, Nicolette discovers a secret workshop in the cellar and begins to dare to imagine a new life for herself. Could the mysterious books and tools hidden there—and the mechanical menagerie, led by a tiny metal horse named Jules—be the key to escaping her dreary existence? With a technological exposition and royal ball on the horizon, the timing might just be perfect for Nicolette to earn her freedom at last."