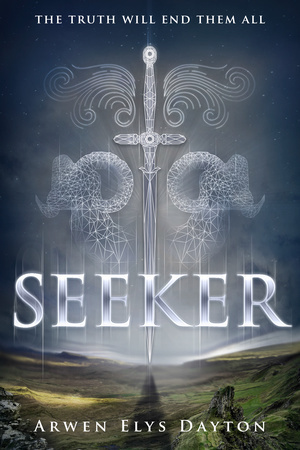 Book Title: Seeker (Seeker #1)
Book Author: Arwen Elys Dayton
Book Rating: ☆☆ (2 out of 5 stars)
Synopsis: "The night Quin Kincaid takes her Oath, she will become what she has trained to be her entire life. She will become a Seeker. This is her legacy, and it is an honor. As a Seeker, Quin will fight beside her two closest companions, Shinobu and John, to protect the weak and the wronged. Together they will stand for light in a shadowy world. And she'll be with the boy she loves–who's also her best friend. But the night Quin takes her Oath, everything changes. Being a Seeker is not what she thought. Her family is not what she thought. Even the boy she loves is not who she thought. And now it's too late to walk away."
I knew almost nothing about this book before I started reading, but I was drawn in by that beautiful cover!  The blurb I read about the book compared this to two really popular book series.  I hate it when marketing people do that, because you are really just setting up the book for failure.  There's no way that a newer author can live up to the hype of Game of Thrones or The Hunger Games.  However, even keeping comparisons aside, I didn't really care for this book.
The best way I can think to describe this story is "modern medieval".  There is plenty of action, sword fighting, and castles, but the story takes place in a futuristic world where portal travel is possible.  Quin is an apprentice training to become a Seeker, along with her distant cousin Shinobu, and the love of her life, John.  Quin always believed that a Seeker's job was to help others and to do good, but on the night she takes her Oath, she finds out everything she thought about being a Seeker was a lie.  And now she cannot escape her sacred duty.
The premise sounded really promising, but the world building was so lacking that I didn't really know what was going on.  I don't really know any better way to describe the plot, other than it seemed like I walked in during the middle of story and missed out on some of the most important parts.  It isn't really explained what a Seeker does, the history behind it, or why it is such a big secret on what their "job" really is.  And then, once Quin is initiated, she goes on her first "task", but we aren't told what happened.  All we know is that she is severely depressed and regretful after the fact.  I feel that the author should not have left out what is, undoubtedly, an important scene in relation to the rest of the book.  I don't know if the author was trying to keep what happened shrouded in mystery of a particular reason, but it just left me frustrated and unable to fully appreciate the rest of the story.
Disclosure: I received a free copy of this book through Netgalley.