FRIDAY FINDS showcases the books you 'found' and added to your To Be Read (TBR) list… whether you found them online, or in a bookstore, or in the library — wherever! (they aren't necessarily books you purchased).  This weekly event is hosted by Should be Reading!
There are two books that I found through Goodreads earlier this week that sound pretty amazing.  I quickly added them to my (ever growing) "To Be Read" list.  Both of these aren't being release until later this year, but I am really looking forward to getting my hands on them in a few months!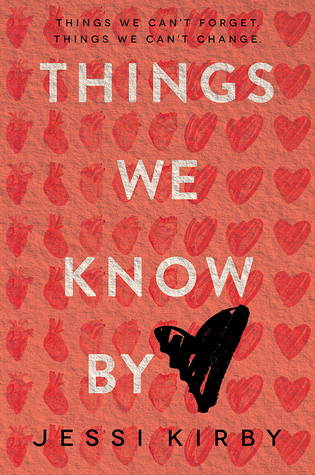 Book Title: Things We Know by Heart
Book Author: Jessi Kirby
Expected Publication: April 21, 2015
When Quinn Sullivan meets the recipient of her boyfriend's donated heart, the two form an unexpected connection.
After Quinn loses her boyfriend, Trent, in an accident their junior year, she reaches out to the recipients of his donated organs in hopes of picking up the pieces of her now-unrecognizable life. She hears back from some of them, but the person who received Trent's heart has remained silent. The essence of a person, she has always believed, is in the heart. If she finds Trent's, then maybe she can have peace once and for all.
Risking everything in order to finally lay her memories to rest, Quinn goes outside the system to track down nineteen-year-old Colton Thomas—a guy whose life has been forever changed by this priceless gift. But what starts as an accidental run-in quickly develops into more, sparking an undeniable attraction. She doesn't want to give in to it—especially since he has no idea how they're connected—but their time together has made Quinn feel alive again. No matter how hard she's falling for Colton, each beat of his heart reminds her of all she's lost…and all that remains at stake.
Book Title: The Pocket Wife
Book Author: Susan Crawford
Expected Publication: March 17, 2015
An amazing talent makes her debut with this stylish psychological thriller—with the compelling intrigue of The Silent Wife and Turn of Mind and the white-knuckle pacing of Before I Go to Sleep —in which a woman suffering from bipolar disorder cannot remember if she murdered her friend during a breakdown.
Dana Catrell is horrified to learn she was the last person to see her neighbor Celia alive. Suffering from a devastating mania, a result of her bipolar disorder, Dana finds that there are troubling holes in her memory, including what happened on the afternoon of Celia's death. As evidence starts to point in her direction, Dana struggles to clear her name before her own demons win out.
Is murder on her mind – or is it all in her head?
The closer she comes to piecing together shards of her broken memory, the more Dana falls apart. Is there a murderer lurking inside her . . . or is there one out there in the shadows of reality, waiting to strike again? A story of marriage, murder and madness, The Pocket Wife explores the world through the foggy lens of a woman on the edge.