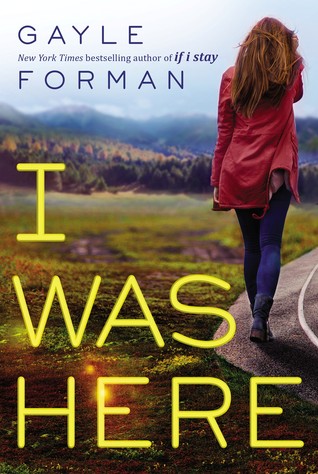 Book Title: I Was Here
Book Author: Gayle Forman
Book Rating: ☆☆☆☆ (4 out of 5 stars)
Synopsis: "When her best friend Meg drinks a bottle of industrial-strength cleaner alone in a motel room, Cody is understandably shocked and devastated. She and Meg shared everything—so how was there no warning? But when Cody travels to Meg's college town to pack up the belongings left behind, she discovers that there's a lot that Meg never told her. About her old roommates, the sort of people Cody never would have met in her dead-end small town in Washington. About Ben McAllister, the boy with a guitar and a sneer, who broke Meg's heart. And about an encrypted computer file that Cody can't open—until she does, and suddenly everything Cody thought she knew about her best friend's death gets thrown into question.
I Was Here is Gayle Forman at her finest, a taut, emotional, and ultimately redemptive story about redefining the meaning of family and finding a way to move forward even in the face of unspeakable loss."
This was a really heavy book, which I think everyone knows is a common theme with most of Gayle Forman's books. I love Forman's writing and I always like her female leads, so I have been eagerly anticipating the release of this book for months!
Cody has known Meg since they were in kindergarten, and they've always shared everything and done everything together.  But when Meg commits suicide, Cody wonders how she didn't see it coming, and why her friend would do this.  Not only was Cody close to Meg, but she was close to her family as well, so when her parents ask her to travel to Meg's college apartment to bring her things home, Cody does not hesitate.  While there, Cody begins searching through Meg's belongings and computer for any hints as to what could have motivated her to take such as drastic step.  Cody also meets the people that Meg lived with and hung out with at school, and they begin trying to help Cody put together the pieces of Meg's last few months.
I think it is really difficult to write about suicide, and even more difficult to do it well.  Forman handled this subject nearly flawlessly, and I found myself just as desperate as Cody to find a "reason" why Meg chose to end her own life.  My one and only glaring dislike for this book was the romance.  I knew it was coming from the moment that they introduced Ben's character, and I wish that part of the story had been left out completely.  Ben reminded me so much of Willem from Just One Day/Just One Year, and I couldn't stand him either.  I don't buy the playboy-turned-good-guy plotline, and I don't buy the fact that Cody was okay with romantically involving herself with the same guy that broke her deceased friend's heart.  Other than that piece of the story, I did really enjoy this book, and I've been kind of shock about some of the negative reviews that I've read from others.