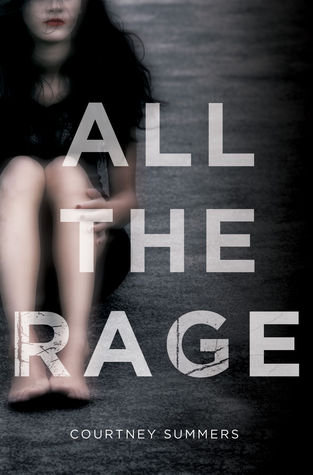 Book Title: All the Rage
Book Author: Courtney Summers
Book Rating: ☆☆☆☆ (4 out of 5 stars)
Synopsis: "The sheriff's son, Kellan Turner, is not the golden boy everyone thinks he is, and Romy Grey knows that for a fact. Because no one wants to believe a girl from the wrong side of town, the truth about him has cost her everything—friends, family, and her community. Branded a liar and bullied relentlessly by a group of kids she used to hang out with, Romy's only refuge is the diner where she works outside of town. No one knows her name or her past there; she can finally be anonymous. But when a girl with ties to both Romy and Kellan goes missing after a party, and news of him assaulting another girl in a town close by gets out, Romy must decide whether she wants to fight or carry the burden of knowing more girls could get hurt if she doesn't speak up. Nobody believed her the first time—and they certainly won't now — but the cost of her silence might be more than she can bear.
With a shocking conclusion and writing that will absolutely knock you out, All the Rage examines the shame and silence inflicted upon young women after an act of sexual violence, forcing us to ask ourselves: In a culture that refuses to protect its young girls, how can they survive?"
Well, it seems as though I've been picking a lot of depressing books lately, all dealing with some heavy issues.  This one may have been the most heart wrenching of them all, though.  Something terrible has happened to Romy…but now that is only half of her problem.  You see, Romy lives in Small Town, USA, where everyone knows everyone, and they all know your business.  Romy is the daughter of the town drunk, so when she accuses the sheriff's son of raping her at a party, no one believes her.  Worse than that, she is quickly turned into the town pariah and endures nearly torturous bullying at school.  Her life has literally become a living hell, and her only solace is her waitressing job in another nearby town where no one knows what has happened to her.  Soon after, her ex-best friend disappears after a wild school party, and Romy wakes up in the middle of nowhere with no memory of how she got there.  As the mystery unfolds, the readers get to piece together how all of these events are related.
The really scary thing about this book is that I am sure this kind of thing happens more often than it ever should in small towns.  It still baffles me that there are still people today who can turn a victim of sexual assault into the person at fault, and everyone just looks the other way.  This story and its characters were completely life-like, and every chapter put me on a roller coaster of emotions.  While this certainly was not an easy read, I commend the author for creating a story that creates such an intense emotional response with readers.
Disclosure: I received a free copy of this book through Netgalley.