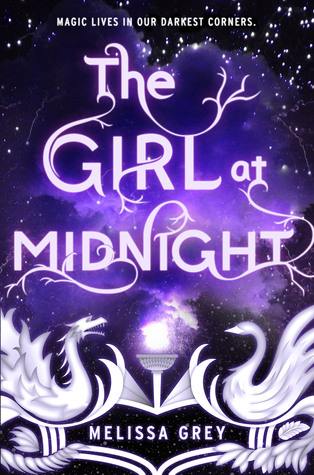 Book Title: The Girl at Might (The Girl at Midnight #1)
Book Author: Melissa Grey
Book Rating: ☆☆☆☆ (4 out of 5 stars)
Synopsis: "Beneath the streets of New York City live the Avicen, an ancient race of people with feathers for hair and magic running through their veins. Age-old enchantments keep them hidden from humans. All but one. Echo is a runaway pickpocket who survives by selling stolen treasures on the black market, and the Avicen are the only family she's ever known.
Echo is clever and daring, and at times she can be brash, but above all else she's fiercely loyal. So when a centuries-old war crests on the borders of her home, she decides it's time to act.
Legend has it that there is a way to end the conflict once and for all: find the Firebird, a mythical entity believed to possess power the likes of which the world has never seen. It will be no easy task, but if life as a thief has taught Echo anything, it's how to hunt down what she wants . . . and how to take it.
But some jobs aren't as straightforward as they seem. And this one might just set the world on fire."
This is one of the most promising young adult debuts that I have read in a long time.  Magic and the paranormal are typically not genres that particularly interest me.  To keep me engaged, the world-building has to be just right in those types of stories.  This book impressed me.  Not only with it's world-building (which was incredible), but also with its vivid imagery and lovely prose. There's also plenty of action and adventure to hold your interest and keep the pace of the story steady.
Echo is a young girl who lives alone inside the public library in New York City, and is used to stealing whatever it is she needs to survive.  When she meets The Ala, a leader of the Avicen, she is taken into their clan and is introduced to a world where magic is very real. The Avicen are stunning human/bird hybrids, who have been at war with the Drakhan (human/dragon hybrids) for centuries.  There are rumors of a firebird that has the capability of ending the war and bringing peace.  Members of both clans, including Echo…who knows how to find whatever it may be that she's looking ford, work to locate the firebird…although little is known about it.  In fact, save for its approximate location, no one even knows what the firebird looks like.  Their journey in this book doesn't end with a major cliffhanger, which I appreciate, but I am still interested in reading the next installment.
There wasn't really much about this book that I didn't like, but there was one silly thing that I thought was sort of over-the-top.  There is a spell cast on Echo's door to her home, and every time she comes home she has to prick her finger and rub a drop of her blood on the door to get it to open.  All I could think after I read that was, "That would get really old, really fast."  I'm also not a fan of love triangles, but at least this one didn't feel as forced as most others.  I haven't read any of the other popular fantasy series that this book has been compared to, so I can only give my perspective of this without comparing it to anything else, and it is a really entertaining read.
Disclosure: I received a free copy of this book through Netgalley.