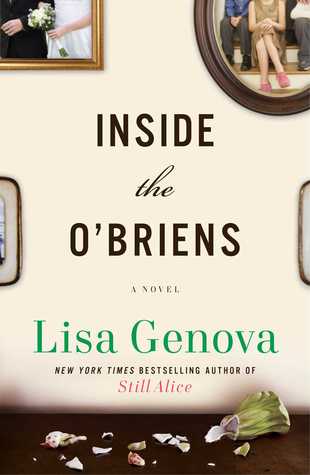 Book Title: Inside the O'Briens
Book Author: Lisa Genova
Book Rating: ☆☆☆☆☆ (5 out of 5 stars)
Synopsis: "Joe O'Brien is a forty-four-year-old police officer from the Irish Catholic neighborhood of Charlestown, Massachusetts. A devoted husband, proud father of four children in their twenties, and respected officer, Joe begins experiencing bouts of disorganized thinking, uncharacteristic temper outbursts, and strange, involuntary movements. He initially attributes these episodes to the stress of his job, but as these symptoms worsen, he agrees to see a neurologist and is handed a diagnosis that will change his and his family's lives forever: Huntington's Disease.
Huntington's is a lethal neurodegenerative disease with no treatment and no cure. Each of Joe's four children has a 50 percent chance of inheriting their father's disease, and a simple blood test can reveal their genetic fate. While watching her potential future in her father's escalating symptoms, twenty-one-year-old daughter Katie struggles with the questions this test imposes on her young adult life. Does she want to know? What if she's gene positive? Can she live with the constant anxiety of not knowing?
As Joe's symptoms worsen and he's eventually stripped of his badge and more, Joe struggles to maintain hope and a sense of purpose, while Katie and her siblings must find the courage to either live a life "at risk" or learn their fate."
I have heard of Lisa Genova's previous works, and have heard nothing but good things about Still Alice, but having had a relative pass away from Alzheimer's disease, just felt like it would hit too close to home.  I thought that Inside the O'Brien's might be "safer", or less emotional.  I was so wrong.  I didn't just shed a few tears reading this book, I openly wept more than once through some of the chapters.  But, however heart wrenching this novel was, it is definitely a story that needs to be told.  I knew almost nothing about Huntington's Disease going into this book, and I hope that this will bring more awareness to this rare condition.
Dr. Genova takes us through one family's struggle with learning that their patriarch has an incurable neurological disease that will only get progressively worse, until he is unable to care for himself and eventually passes away.  Each of the four children in the family have a 50% chance of having inherited the gene that causes the condition.  When faced with that kind of blow, what would you do?  Would you rather know your fate and try to cope with the knowledge that you too will be faced with this debilitating illness?  Or would you rather go on living without knowing, and have to deal with the stress of the uncertainty?  The author perfectly handled the process through which each of the children made the decision of whether or not to undergo the testing that will tell them if they carry the gene that causes the disease, and will therefore experience the same fate as their father.  Whatever they decide, each of the O'Brien's must find a way to cope with the fact that they will soon have to lose the head of their close-knit family, and there is no test in the world that can prepare them for that kind of heartache.
Disclosure: I received a free copy of this book through Netgalley.