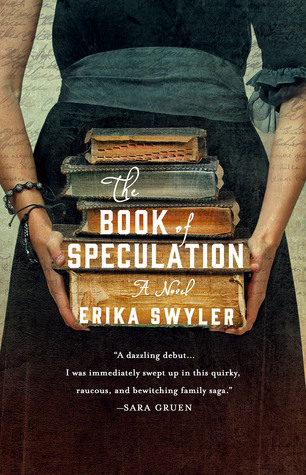 Book Title: The Book of Speculation
Book Author: Erika Swyler
Book Rating: ☆☆☆☆☆ (5 out of 5 stars)
Synopsis: "Simon Watson, a young librarian on the verge of losing his job, lives alone on the Long Island Sound in his family home, a house perched on the edge of a bluff that is slowly crumbling toward the sea. His parents are long dead, his mother having drowned in the water his house overlooks. His younger sister, Enola, works for a traveling carnival reading tarot cards and seldom calls.
On a day in late June, Simon receives a mysterious package from an antiquarian bookseller. The book tells the story of Amos and Evangeline, doomed lovers who lived and worked in a traveling circus more than two hundred years ago. The paper crackles with age as Simon turns the yellowed pages filled with notes, sketches, and whimsical flourishes, and his best friend and fellow librarian, Alice, looks on in increasing alarm. Why does his grandmother's name, Verona Bonn, appear in this book? Why do so many women in his family drown on July 24? Could there possibly be some kind of curse on his family, and could Enola, who has suddenly turned up at home for the first time in six years, risk the same fate in just a few weeks? In order to save her–and perhaps himself–Simon must try urgently to decode his family history while moving on from the past."
I just first want to note that this author sounds pretty awesome.  When she was preparing her manuscripts of this book to be sent out to various publishers, she hand bound and tea-stained each copy to give each of them that "old book" look, similar to the book that Simon receives at the beginning of this novel.  You can read all about the process that Swyler used here.
This book is basically two stories in one: Simon's story and then the story of the book that he has received.  I usually have mixed feelings about those types of novels, as I always seem to like one part of the story a lot more than the other, and I feel like I'm skimming through the parts I don't like as much to get back to the parts that I do like. In The Book of Speculation, each of the parts were strong in their own right.  I have read a few other reviews of this novel that have compared it to The Night Circus, and while I agree that they both have some of the same elements, I enjoyed this one quite a bit more.  Everything about this book was perfect to me, I connected with all of the characters, the descriptive writing was stunning, and all of the other little details (like the original drawings sprinkled throughout) were the icing on the cake.
The book begins with Simon, a young-ish librarian who lives in his family's home on the edge of an ocean bluff.  The house is in complete disrepair, and looks as though it could slide into the sea at any moment.  Simon's job doesn't allow him the disposable income needed to make any proper repairs to the home, but he can't bear to sell it, as it is one of his only remaining ties to his deceased parents.  When Simon was a child, his mother committed suicide by drowning herself in the ocean, and his father later died, seemingly of a broken heart.  Simon was left to care for his younger sister, Enola, who is now an adult herself and works for a traveling circus reading tarot cards.
Simon receives a bizarre book in the mail from an elderly book seller that contains his grandmother's name.  As Simon researches how this book is connected to his grandmother, he is alarmed to realize that all of the women in his family have worked as traveling performers, and all have drowned on July 24th, including his mother. Is this some sort of terrible coincidence, or could there be a curse on his family?  And if there is a curse, is his younger sister next?
Seriously, mark your calendars.  When this book is released on June 23rd, you won't want to miss it!
Disclosure: I received a free copy of this book through Netgalley.