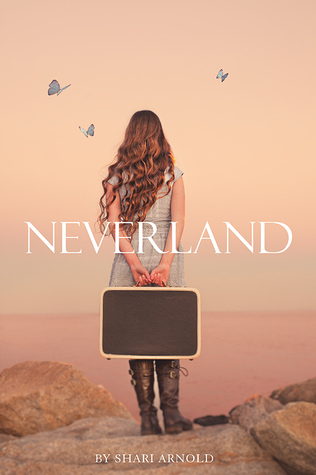 Book Title: Neverland
Book Author: Shari Arnold
Book Rating: ☆☆☆☆ (4 out of 5 stars)
Synopsis: "It's been four months since seventeen-year-old Livy Cloud lost her younger sister, but she isn't quite ready to move on with her life — not even close. She'd rather spend her time at the Seattle Children's hospital, reading to the patients and holding onto memories of the sister who was everything to her and more.
But when she meets the mysterious and illusive Meyer she is drawn into a world of adventure, a world where questions abound.
Is she ready to live life without her sister? Or more importantly, is she brave enough to love again?
In this modern reimagining of Peter Pan, will Livy lose herself to Neverland or will she find what she's been searching for?"
I knew I really wanted to read this book from the moment that I read its description; it just sounded so promising.  The story started off a little slowly for me.  That isn't to say that it isn't well written, I just wasn't sure where the author was going with the plot.  We are introduced to Livy Cloud, a teenage girl who lost her little sister to leukemia just a few months before.  Livy still volunteers at the children's hospital where her sister received treatment, and wants to become a bone marrow donor so she can save another family from the heartache that hers has been experiencing.  While I liked Livy, at times I found her a little dull, but she slowly grew on me as the book progressed.  Because of her sister's illness and death, her family is splintered, with each of her parents dealing with their loss in their own, ineffective ways.
Livy doesn't really have much to look forward to these days, until she meets the enthralling Meyer.  They form an instant connection, but Livy is puzzled by his frustratingly elusive nature. It was pretty clear from the moment that Meyer was introduced that he was the "Peter Pan" of this retelling.  But for the first half of the book, that was about as much "fairytale" as I got.  This book was honestly more about Livy's grief than anything else.  And while that wasn't necessarily a bad thing, I kept thinking, "This book is called Neverland…are we ever going to see Neverland?" It is not until the second part of the book that things get really interesting.  And yes, readers do eventually get to see Neverland…and the author's interpretation of this magical place is very beautiful, and the descriptive writing blew me away.
Overall, I did enjoy this book, and I thought that this was a very complex and beautiful twist on a classic fairytale; there were just a few things that I felt could have been a bit stronger.  My rating is probably closer to 3.5 stars, but I rounded up because I was impressed by the many layers of this story.
Disclosure: I received a free copy of this book through Netgalley.