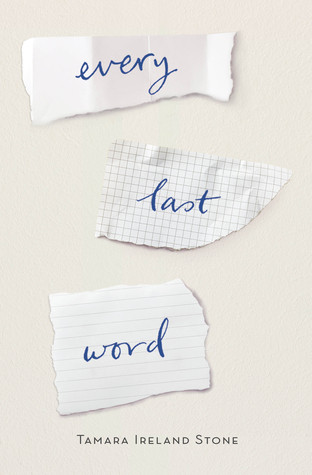 Book Title: Every Last Word
Book Author: Tamara Ireland Stone
Book Rating: ☆☆☆☆☆ (5 out of 5 stars)
Synopsis: "If you could read my mind, you wouldn't be smiling.
Samantha McAllister looks just like the rest of the popular girls in her junior class. But hidden beneath the straightened hair and expertly applied makeup is a secret that her friends would never understand: Sam has Purely-Obsessional OCD and is consumed by a stream of dark thoughts and worries that she can't turn off.
Second-guessing every move, thought, and word makes daily life a struggle, and it doesn't help that her lifelong friends will turn toxic at the first sign of a wrong outfit, wrong lunch, or wrong crush. Yet Sam knows she'd be truly crazy to leave the protection of the most popular girls in school. So when Sam meets Caroline, she has to keep her new friend with a refreshing sense of humor and no style a secret, right up there with Sam's weekly visits to her psychiatrist.
Caroline introduces Sam to Poet's Corner, a hidden room and a tight-knit group of misfits who have been ignored by the school at large. Sam is drawn to them immediately, especially a guitar-playing guy with a talent for verse, and starts to discover a whole new side of herself. Slowly, she begins to feel more "normal" than she ever has as part of the popular crowd . . . until she finds a new reason to question her sanity and all she holds dear."
Before I start this review, I want to apologize for the lack of updates to this blog lately.  I just finished up my spring classes for this semester a couple of weeks ago, and between craziness at work and my finals I have had very little time to read.  The good news is, now that I am finished with classes, I will have oodles of time to devote to reading (which is great, because my to read list just keeps growing)!
Okay, so now on to my thoughts about Every Last Word…
Book boyfriend alert!  Cue insane amounts of swooning as this story progresses. But I digress…
Sam has Obsessive Compulsive Disorder.  She struggles with obsessive thoughts and panic attacks almost every single day.  She's been in therapy for years, but none of her friends know about her struggles.  You see, Sam is part of a clique of girls at her high school who are very much reminiscent of The Plastics from the movie Mean Girls.  Would you tell Regina George that you were seeing a shrink?  Nope, didn't think so.  So, Sam has gotten really good at hiding her true feelings from pretty much everyone who she should be able to share things with.  It seems impossible to ditch her popular group of friends as they offer her a sort of "protection" that would otherwise make her life in high school a living hell.
One day at school, Sam meets Caroline and surprises herself by opening up to her.  Caroline then introduces Sam to an accepting and just overall awesome group of people who she can start being herself around.  They have their own "Poet's Corner" during lunch a couple of days a week, and slowly, Samantha feels that she can let her guard down and no longer has to struggle with her mental illness alone. Among the people in the Poet's Corner that Sam gets to know is AJ.  At first, AJ is reluctant to allow Sam to join their little group of misfits, as Sam and her friends used to tease him mercilessly in elementary school.  But he soon recognizes how sorry she is for her past behavior and they slowly start to become friends.  It was pretty easy to tell the direction that their relationship would eventually take, but the way that the author built the relationship up from mere tolerance to one of the most beautiful young adult romances that I have ever read is flawlessly executed.
This book deals with real issues in a way that was handled perfectly, with characters that you just wanted to root for, especially Sam.  Her insecurities reminded me so much of my own high school self, and I really admired how Sam went from a timid person who held everything in, to a strong young woman who is able to cope with her illness in a beautiful way.
Disclosure: I received a free copy of this book through Netgalley.