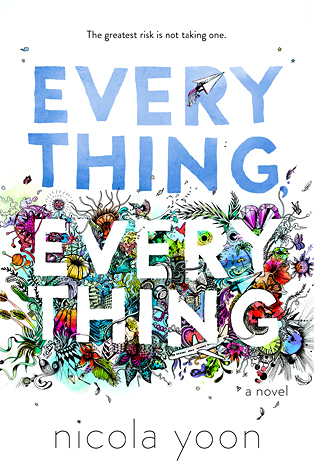 Book Title: Everything, Everything
Book Author: Nicola Yoon
Book Rating: ☆☆☆☆☆ (5 out of 5 stars)
Expected Publication: September 1, 2015
Synopsis: "My disease is as rare as it is famous. Basically, I'm allergic to the world. I don't leave my house, have not left my house in seventeen years. The only people I ever see are my mom and my nurse, Carla.
But then one day, a moving truck arrives next door. I look out my window, and I see him. He's tall, lean and wearing all black—black T-shirt, black jeans, black sneakers, and a black knit cap that covers his hair completely. He catches me looking and stares at me. I stare right back. His name is Olly.
Maybe we can't predict the future, but we can predict some things. For example, I am certainly going to fall in love with Olly. It's almost certainly going to be a disaster."
My God, where do I start with this review?  This book was like eating a delicious dessert in a just a few bites, and then afterward feeling sad that you're finished and have none left to enjoy. I like reading a good romance every now and then, but there has to be something really special about it to hook me in.  This novel is completely unique and I loved every single page.
Madeline has just turned 18, and hasn't left her home in almost that amount of time.  She has an incredibly rare disorder called Severe Combined Immunodeficiency (SCID), which essentially makes her allergic to the world.  Her life is essentially one big bubble, and she has no interactions with anyone outside of her mother and her nurse.  Her father and brother died when Madeline was a baby, so her mother (also a doctor) is incredibly protective of her because of her illness.  Madeline really doesn't have much of a desire to change her situation; this life is all she has ever known and she doesn't want much more.  That is, until a new family moves in next door.  She becomes obsessed with watching this family, especially the cute boy right about her age.  Madeline begins communicating with this boy, named Olly, first by messages that they pantomime to each other, then by e-mail exchanges.  But when they finally meet in person, Madeline comes alive.  She realizes how much she is missing out on in the real world, not just love, but everything.  Madeline and Olly try to navigate through the uncertainty of young love, all while not even being able to touch each other for fear that it will make Madeline sick.  Suddenly, nothing is Madeline's highly structured life is enough anymore.
This was a beautiful story, with a surprise ending that I could not have predicted.  Everything, Everything is Nicola Yoon's first novel, and she is going to be on my short list of authors that I will automatically read anything they publish from now on.
Disclosure: I received a free copy of this book through Netgalley.