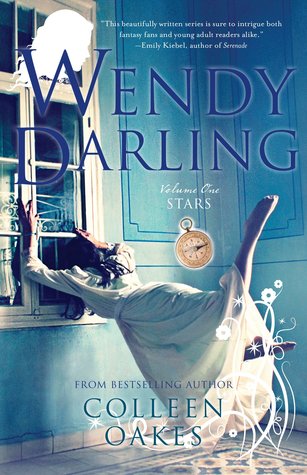 Book Title: Stars (Wendy Darling #1)
Book Author: Colleen Oakes
Book Rating: ☆☆☆ (3 out of 5 stars)
Published: October 12, 2015
Synopsis: "Wendy Darling has a perfectly agreeable life with her parents and brothers in wealthy London, as well as a budding romance with Booth, the neighborhood bookseller's son. But while their parents are at a ball, the charmingly beautiful Peter Pan comes to the Darling children's nursery and—dazzled by this flying boy with god-like powers—they follow him out of the window and straight on to morning, to Neverland, a intoxicating island of feral freedom.
As time passes in Neverland, Wendy realizes that this Lost Boy's paradise of turquoise seas, mermaids, and pirates holds terrible secrets rooted in blood and greed. As Peter's grasp on her heart tightens, she struggles to remember where she came from—and begins to suspect that this island of dreams, and the boy who desires her—have the potential to transform into an everlasting nightmare."
This is actually the second Peter Pan retelling that I have read this year, the first of which was Neverland by Shari Arnold. This retelling was much less modern, and more closely resembled the classic fairy tale that we all know.  I have read and enjoyed the first two installments of Colleen Oakes's other fairy tale series, based on the Queen of Hearts from Alice in Wonderland, so I was very eager to read her spin on Peter Pan.
We first meeting the Darling family in early 1900's London.  Wendy is a sixteen year girl with a blossoming romance with the local bookseller's son, Booth.  When Wendy's father learns of this romance, he forbids her from seeing her love ever again.  Utterly heartbroken, Wendy is easily lured one night from her bedroom to Neverland by the mysterious, flying Peter Pan, with her younger brothers (John and Michael) in tow.  While at first Neverland seems like a magical, wonderful place, it later becomes very clear that there are some very evil things lying just under the surface.  The truth about Neverland was slowly revealed (maybe a bit too slowly?), and Wendy becomes desperate to save herself and her young brothers from its horrors.
The story kept me engaged, and the descriptive writing was beautiful, however, the dialog left a lot to be desired.  I thought more than once that the conversations seemed very awkward and strange.  Overall, I think the best way to summarize this book would be to imagine the original Peter Pan story, add a dash of Lord of the Flies, with a generous helping of angsty YA romance.  And while this book didn't completely live up to my expectations, I will definitely be reading the next installment in the series…Oakes has set the series up to take a very interesting turn.
Disclosure: I received a free copy of this book through Netgalley.